Vaccinations for all horses
Vaccinations aim to protect your horse from different diseases. An understanding about the specific diseases you are vaccinating against will help you play an active role in the overall health of your herd, this will also establish a working relationship with your veterinarian.

You should base the decision to vaccinate on

the risk of disease

consequences of the disease

effectiveness of the vaccination protocol

potential for adverse effects

Keep in mind that
just like in human medicine, no vaccination is 100% effective

adequate immunity requires proper management to prevent the spread of infectious diseases

vaccinations are not immediately protective

adequate immunity requires additional immunizations at appropriate intervals throughout the year

Contact us to develop a customized vaccination schedule that is right for your horse.
The core vaccinations for New England
Tetanus and the 2 encephalitis vaccines are usually given as a "3-way" vaccination, meaning they are given as one injection.
Tetanus Toxoid
Tetanus, caused by Clostridium tetani is a bacterial infection that affects the nervous system. Spores of the bacteria live in the soil and are found around the world. Infection begins when the spores enter the body through an injury or wound. The vaccination is usually given 2 times initially 3-4 weeks apart, then continued to be boostered annually. Just like in human medicine, if the horse sustains a wound or is admitted for surgery they should have a booster within 6 months.
Eastern Equine Encephalitis/
Western Equine Encephalitis
EEE/WEE is a mosquito-borne viral infection that can cause severe encephalitis (inflammation of the brain) in horses and humans. There is no specific treatment for this disease and supportive care is the only therapy. Due to vaccination protocol, these 2 diseases no longer occur regularly although small outbreaks are still seen. Similar vaccination routine to tetanus, EEE/WEE is initially given 2 times (4-6 weeks apart) and then boostered annually prior to the vector season. It is imperative that imported horses receive this vaccination as soon as they are out of quarantine.
West Nile Virus
West Nile virus is a mosquito born disease spread with the bird as an amplifying host. Humans and horses are considered "dead end hosts" as they cannot transmit the disease once they contract it. This disease causes encephalitis leading to neurologic clinical signs. Vaccination schedule is an initial 2 dose series (4-6 weeks apart) with a yearly booster before the vector season. The vaccination may be given more frequently in areas with year round vectors.
Rabies
This viral disease causes encephalitis and is highly fatal. Any mammal may spread this disease with contact from infected saliva (usually a bite). The vaccine is administered annually.

The following vaccinations are "optional" and should be considered based on geography, herd population and travel or between individual horses in a population. Ask your veterinarian!

Equine Herpes Virus 1&4 (Rhinopneumonitis):
There are two types of Equine herpes virus's that can cause respiratory tract disease, they are known as EHV-1 and EHV-4. The symptoms are fever, lethargy and coughing with nasal discharge. This virus affects young and immuno-compromised horses who are co-mingled with many other horses. The virus is spread through aerosolized secretions and can be shed in clinically normal horses as well. EHV-1 has been known to cause abortion storms. Because it is a herpes virus, it can become latent in a population and develop consistent shedding affecting the immunologically challenged or young. As a horse matures they develop natural immunity from exposure, however, if a horse is traveling and introduced to many different populations their immune system can become overwhelmed. Vaccinating routinely will lessen the severity of the clinical signs. Vaccination does not protect against the neurologic or abortigenic form of the disease, which can potentially occur in the latent carriers.
Equine Influenza
Equine flu is another form of respiratory disease that is spread by horses in close contact via aerosolized secretions (coughing). This virus is known to affect those horses that are immunologically compromised and horses that are between the ages of 1 and 5 more commonly. Older horses are less susceptible, however can be immunologically overwhelmed while traveling to shows. All horses should be vaccinated with equine influenza vaccine unless they are housed in a closed herd.

Strangles
Strangles, caused by Streptococcus equi is an extremely contagious infection that is spread by contact with other horses. This bacteria causes a large inflammatory response with a high fever, difficulty eating, trouble breathing and abscessed lymph nodes. This bacterial infection affects younger horses most commonly, older horses can be at risk.
Potomac Horse Fever
Also known as equine monocytic ehrlichiosis caused by the organism Neorickettsia risticii. This organism is found in snails, slugs and certain insects that are near water and is seen late summer and early fall. The clinical signs include fever, diarrhea and lethargy, possibly leading to mild colic and laminitis. This vaccination is recommended for horses that have access to water (ponds, lakes, streams etc) and should be administered during specific times of year to lessen severity of clinical signs.
Rota Virus
This is a viral disease causing severe diarrhea especially in foals. The virus is spread through the fecal-oral route and can be very contagious. Vaccinating the pregnant mare increases the foal's antibodies to help fight the viral disease and is the best way to limit the clinical signs. This should be administered on farms where rota virus has been a consistent problem. Vaccination of the foal has not been shown to significantly help decrease clinical signs.
Lyme Disease
Also known as Borrelia burgdorferi, this organism is spread by ticks and affects human, dogs and horses to varying degrees. There is a broad spectrum of clinical signs but the most common clinical signs include a mild fever, stiffness and multiple limb lameness. Vaccination is controversial at this time. There is no FDA approved vaccine available for horses and more research is required.
Equine Viral Arteritis (EVA)
Affects breeding stallions and mares. Typically, EVA is non-life threatening for normal healthy horses, however it can cause abortions in mares and is spread by breading stallions with no clinical signs. Vaccination in the face of an outbreak is recommended and has been shown to decrease the spread of the virus. Consult with your veterinarian first before considering vaccination.

Routine Care and Vaccinations in the Field
Annual/biannual veterinary evaluations are essential to the overall health of every horse. Our doctors strive to provide a complete and custom vaccination schedule for each individual equine companion based on travel plans and current disease threats to the equine species. Our office staff keeps meticulous medical records so you can be assured your horse is receiving the best possible care.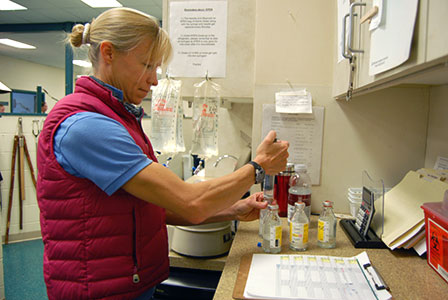 Are vaccinations dangerous?
Owing to the fact that foreign material is being injected into the body (usually intramuscularly, sometimes intranasally), there are risks associated with each vaccine. Individual horses respond differently to injections and it is critical to know which signs to look for when your horse receives his/her annual vaccinations.
Does my horse have to be vaccinated multiple times?
Vaccines given are routinely administered as a 3-, 4- or 5- way, this means there are multiple vaccines in one injection, limiting the amount of times your horse in injected. This can decrease the amount of injections the horse receives, however, it can also cause reactions. The same vaccines can be given alone for boosters. Consult with your veterinarian as to what is best for your horse.
Are there any side effects?
Vaccinations that are given intramuscularly can have reactions ranging from mild to severe. Mild reactions include swelling at the site of injection and muscle soreness, sometimes a fever may result with the horse going off feed and becoming slightly depressed for 24-48 hours. Severe reactions include abscesses at the injection site or anaphylaxis. Vaccines should always be administered by a veterinarian.
When is the best time to vaccinate?
When considering vaccinating your horse, remember to allow sufficient time to generate a protective response to each vaccination (usually 2-4 weeks, however it depends on each vaccination). Vaccines should be administered well before shipment or prior to a horse show. To decrease the potential for a reaction, veterinarian or owner may elect to stagger the vaccination protocol. When considering non-core vaccinations, consult with your veterinarian about each individual horse to get an idea about how your horse will benefit.

Horse Vaccination Schedule
Spring Vaccinations
(March-May)

Fall Vaccinations
(August-October)

Eastern Encephalitis, Western Encephalitis (EEE, WEE)
Rabies*
(annually, spring or fall)
Tetanus
Potomac horse fever (PHF) (booster if needed)
West Nile Virus (WNV)
West Nile Virus (WNV) (booster if needed)
Influenza (FLU)
Influenza
(booster if needed)
Rhinopneumonitis (Rhino, EHV 1/4)
Rhino, EHV 1/4
(booster if needed)
Strangles
(if high risk)
Strangles
(booster if needed)
Potomac horse fever
(if needed)

Vaccination Guidelines:
All horses must have completed their initial series of each vaccine in order to follow this protocol.